Changi Village 
Off the beaten track, Changi Village shows a more relaxed side of Singapore. The local beach has clean sand that attracts fishermen and bathers alike-especially at weekends the village itself, there are plenty of bargains to be had-T-shirts, electronics, car- pets, Indian cotton clothing, shoes, batik dresses, kimonos and all types of table linen. When hunger strikes, head for the food centre or try one of the restaurants along the main street. Relax in the shade of an umbrella, order up some fresh seafood and watch the world go by. 
Getting there: Take the MRT to Tanah Merah (EW4)


---

Chinatown 
Chinatown Here amidst narrow streets of picturesque shophouses and restaurants brimming with life, the temple idol carvers, herbalists, calligraphers, traders and trishaw drivers pursue a way of life that has changed little for generations. Incense stream from the old temples, the elderly spread their wares out on the pavement for sale and sea cucumbers, regarded as a delicacy, dry in the sun.
Much of Chinatown has recently been renovated, but the old traditions endure. A walk around the streets of Tanjong Pagar reveals local craftsmen at work making clogs, kites and traditional seals for stamping documents. During Chinese New Year, the whole of Chinatown is lit up and buzzes with activity as stalls sell a variety of festive goods. 
Getting there: Take the MRT to Outram Station (EW16) or Chinatown (NE4)


---

Geylang & Katong 
Geylang, traditionally the home of Singapore's Malay, Arab and Indonesian communities, is alive with market stalls and bustling crowds, particularly during Muslim festivals. Spices and rattan from Indonesia, gems from Burma, cotton and gold from India and perfumes from Arabia - this is the place for the adventurous shopper who enjoys old shophouses as a backdrop to bargain hunting.
The Malay influence is strong throughout Geylang and this is reflected in both the shops and the food centres where nasi padang,a dish served with rice, vegetables and meat, is a particular favourite. Wander through the numerous lanes off Geylang Road for some delightful scenarios of local life and stroll down Joo Chiat Road for a glimpse of traditional Chinese businesses such as joss stick and candle makers. Also, drop by at Malay Village. Its shops display a potpourri of Malay traditional items like handicrafts, fabrics, prayer rugs, furniture and antiques. 
Getting there: Take the MRT to Paya Lebar (EW8)



Neighbouring Katong is a quiet residential area formerly colonised by wealthy Straits Chinese families or the Peranakans. Many of Katong's new apartment blocks have spectacular sea views, while the older Peranakan homes, once seaside villas, now stand back from the sea. Parkway Parade is the place to find shopping bargains, but Katong is best known for its wonderful eating houses specialising m Peranakan cuisine and bakeries selling delicious curry puffs. For Chinese seafood, the shophouses along East Coast Road offer a really tasty treat. 
Getting there: Take SBS bus 14 or 16 from Orchard Road


---

Holland Village 

This small area of Singapore still has the feel of a village about it, with its own wet market and shophouses selling everything from straw brooms to valuable antiques. Holland Village is a microcosm of Singaporean life, a curious mix between old and new old coffee shops and hawker stalls jostle for space with ritzy new wine bars and restaurants. The Holland Road Shopping Centre is alive with busy shops, including some selling Asian arts, crafts and antiques. Electronics and factory outlet clothing are other good buys. Weekends are especially busy, when much of Singapore seem to gather at Holland Village to shop, chat and have a meal. 
Getting there:  Take the MRT to Holland Village (CC21)


---

Housing Estates 
Many visitors to Singapore like nothing more than to get off the beaten path to discover how the locals live and enjoy life.

Clementi is located in the Western side of Singapore. Clementi Central offers an air-conditioned bus interchange, Clementi MRT station, several interesting HDB shops, a community library and a modern shopping centre. Clementi is also located not too far off from the central of Singapore. With the Ayer Rajah Expressway nearby and is a short drive to the city.





Getting there: Take to Clementi MRT (EW23)



Woodlands, on the Singapore side of the Causeway leading to Malaysia, has a strong Malay influence. The busy Woodlands Shopping Centre is one of the best places to buy fabric. Many of the colourful fabrics on display are used to make the shimmering traditional dress favoured by Muslim women. 
Getting there: Take the MRT to Woodlands (NS9)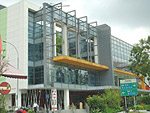 Yishun is a satellite suburb in Singapore's north - the last stop on the MRT. Step straight off the MRT into the six-level Northpoint Centre, a modern shopping mall complete with all the big brand names to be found along Orchard Road. Right next to Northpoint is a high quality, eight-cinema multiplex. And on the other side is a row of shophouses selling food and bargain goods.
Getting there: Take the MRT to Yishun (NS13)



Toa Payoh visitors will find its central shopping area reminiscent of Singapore's older shophouses. Here you can pick up garments at ridiculously low prices T-shirts and shorts at $10 for three items or children's clothes for as little as $2. Toa Payoh town centre includes cinemas, hawker centres, coffee shops and a library. With the relocation of HDB Hub in Toa Payoh, alot more shops and restaurants can be found there. 
Getting there: Take the MRT to Toa Payoh (NS19)



Tampines, an HDB estate in the north-east of Singapore, has the distinction of having won the coveted United Nations World Habitat Award for Excellence in Housing Design. With new schools, shops, markets, beautiful playgrounds, two golf courses, a swimming pool, a badminton hall and a stadium, it has all the facilities its residents could want. A Japanese department store, supermarkets and food chains have already been attracted to Tampines. 
Getting there: Take the MRT to Tampines (EW2)


---

Little India 
Little India, centred around Serangoon Road, embodies the vibrant and colourful culture of the Indian community in Singapore. Women in graceful saris and turbaned Sikhs go about their daily business in the Zhujiao Centre, where a bewildering selection of food is on sale. Small shops abound, selling bolts of glittering silks, temple garlands, gold jewellery and spices that are ground in front of you. The Hindu religion plays an important part in the life of Little India, and the Sri Veerama Kaliaman and Sri Srinivasa Perumal Temples in the area are well worth visiting. 
Getting there: Take the MRT to Little India (NE8)