Jurong Bird Park
Southeast Asia's largest bird park, Jurong Bird Park is home to over 8,000 birds of 600 species from all over the world. Highlights include the world's largest collection of Southeast Asian Hornbills and South American Toucans, and the world's second largest penguin exhibit. Daily shows include Breakfast with the Birds (9am-llam), Birds of Prey, Penguin Feeding Time and the Jurong Bird Park All Stars Bird show. 
Opening hours: 9am to 6pm (Mon-Fri), 8am to 6pm (Sat, Sun and public holidays) 
Panorail: 9.00am to 5.30 pm
Location: 2 Jurong Hill, Singapore 628925 Tel: 62650022
Getting there: Take the MRT to Boon Lay (EW27)


---

Night Safari 
The dark holds many surprises... and more so at the Night Safari, where you can look a one-horned rhinoceros in the eye or hear the howls of a pack of striped hyenas.
There are 1,200 animals of over 100 exotic species to watch out for. Strike out on your own along the walking trail or relax in a tram ride - whichever you choose, the Night Safari is a wild adventure not to be missed.
Opening hours: 7.30pm to midnight daily
Location: 80 Mandai Lake Road, Singapore 729826 Tel: 62693411
Getting there: Take the MRT to Ang Mo Kio (NS16), then SBS bus 138


---

Singapore Zoological Gardens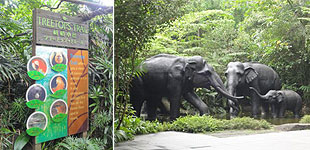 In its lush jungle setting, Singapore's renowned 'open' zoo is a haven for both animals and visitors. More than 2,000 creatures are housed in landscaped enclosures, with rock walls and streams replacing cages.
Special attractions include Children's World, where kids can interact with animals and enjoy excellent playgrounds, the six island Primate Kingdom, the sea lion and penguin gallery, the air-conditioned polar bear exhibit and a miniature railway.
Feeding shows take place throughout the day; favourites include the primates, reptiles, elephants and sea lions. Among the zoo's many endangered species is the world's largest colony of orang utans, with whom you can enjoy breakfast or afternoon tea if you book in advance through your hotel. Allow a whole day to enjoy the zoo's attractions.

Opening hours: 8.30am to 6pm daily
Animal Show times: 10.30am, 11.30am, 2.30pm and 3.30pm
Location: 80 Mandai Lake Road, Singapore 729826 Tel: 62693411
Getting there: Take the MRT to Ang Mo Kio (NS16), then SBS bus 138


---

The Singapore Crocodilarium 
Over 1,000 crocodiles can be viewed at close range. Additional attractions include a reptile product shop. Feeding time is 11am on Tuesdays. 
Opening hours: 9am to 5pm daily
Location: 730 East Coast Parkway, Singapore 439172 Tel: 64473722
Getting there: Take the MRT to Paya Lebar (EW8) or Eunos (EW7) and then take a taxi


---

Butterfly Park and Insect Kingdom 

Enjoy watching exotic species of butterflies in this butterfly aviary. Visitors can also spot the well-camouflaged butterflies in the Insect Safari Tunnel.

Explore over 2,500 species of insects categorized by their geographical locations. You can get to see rare species including fist-sized horned beetles and metallic blue butterflies. Each and every species has a detailed explanation of its origin.

This is a great education tour for children and families.
Opening Hours: 9.00am – 6.30pm
Location: 51 Cable Car Road Sentosa, Singapore 099702 Tel: 62750013 (20m from Cable Car Station )